Blog
Determination of the separation efficiency in a size range from approx. 20 nm to 20 μm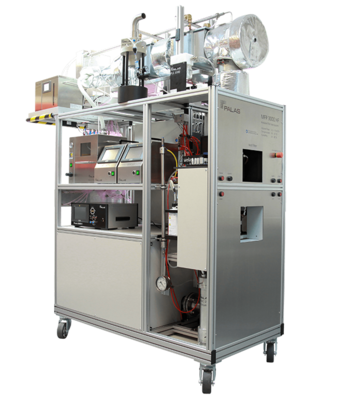 Filter media test rig MFP 3000 HF
The MFP 3000 HF was developed at Palas® in order to meet the highest requirements for filter media testing. On this test rig, it was possible for the first time to determine the separation efficiency in a wide size range from approx. 20 nm to 20 μm.

In close cooperation with the largest filter manufacturer from Baden (Germany), Palas® has developed a new, intelligent testing concept for filter media. It meets the most stringent requirements not only in terms of measuring technology and climate control, but also in terms of occupational health and safety in accordance with the Machinery Directive.

The combination of the Promo® 3000 aerosol spectrometer (measuring range 200 nm to 40 μm) and the Palas® U-SMPS system (measuring range 5 nm to 1200 nm) in the MFP 3000 HF enables the clear and unambiguous determination of the separation efficiency of filter media across the entire size range that is relevant for the filter.

The dependency of the filter efficiency on the ambient conditions, relative humidity and temperature is also supported by the MFP 3000 HF in a straightforward manner. The wide-ranging temperature control from -10 to +50 °C and the control of relative humidity from 10 to > 80 % can be realized for inflow velocities of 4 cm/s to 2 m/s with the highest consistency. With individually controlled heating and cooling zones, it is possible to simulate effects such as particle condensation or icing.

The large selection of different test aerosols like DEHS, NaCl and KCl plus dusts (ISO A2 Fine and ISO A4 Coarse) round off the options for filter media testing in accordance with a wide range of standards and under the widest operating conditions.