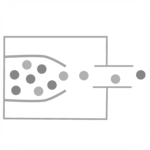 Dilution Systems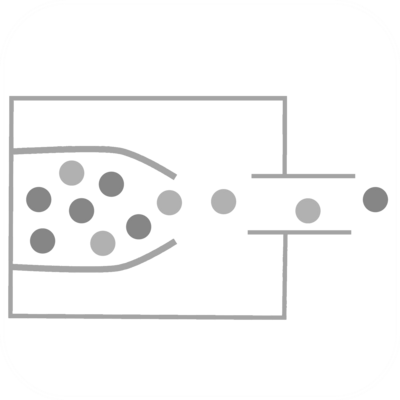 Aerosol dilution systems according to the ejector principle with temporally constant dilution factors of 1:10 up to 1:1,000,000
In practice, the aerosols to be measured very often have to be made measurable for the particle measurement devices about the particle concentration by dilution.
The ejector principle is the classic among the dilution systems and is described in VDI 3491-15. It is mainly characterized by the combination (scalability) of the individual dilution levels, which means that dilution factors of 10, 100, 1,000, 100,000, and 1,000,000 can be set reliably.
Depending on the model variant, the dilution levels for isothermal dilution of hot aerosols can be heated up to 200 °C. Stainless steel models can be designed as pressure-resistant up to 10 bar overpressure and are used worldwide with great success for measuring chemically aggressive aerosols.
The Palas® dilution systems are robust, easy to use, and provide a clearly defined dilution factor. The dilution factors can be checked by the user on-site.
Differences between dilution systems
| | DC 10000 | KHG 10 | PMPD 100 | VKL 10 | VKL 100 |
| --- | --- | --- | --- | --- | --- |
| Weight | Approx. 10 kg | | | Approx. 4 kg | Approx. 4 kg |
| Maximum particle size | < 5 µm | < 20 µm (for dusts) | < 10 µm | < 20 µm (for dusts) | < 2 µm (für Stäube) |
| Volume flow (suction flow) | 2 – 5 l/min | 2 – 5 l/min | 2 – 5 l/min | 2 – 5 l/min | 0.15 – 0.5 l/min |
| Compressed air supply | | 4 – 8 bar | 4 – 8 bar | 4 – 8 bar | 4 – 8 bar |
| Dilution factor | 1 : 10, 1 : 100, 1 : 1,000, 1 : 10,000 | 1 : 10 | 1 : 100 | 1 : 10 | 1 : 100 |
| Power supply | 115 – 230 V, 50/60 Hz | 115 – 230 V, 50/60 Hz | 115 – 230 V, 50/60 Hz | | |
| Special features | | Heatable until 150 °C, cascadable, chemical resistant | Evaporation of volatile elements for exhaust emission measurements according to VPR Calibration Procedure AEA/ED 47382/Issue 5 (Volatile Particle Removal Efficiency), chemical resistant, heated to 200 °C | Cascadable | Cascadable |
| Dimensions | Approx. 500 • 230 • 150 mm (H • W • D) | | | 100 • 245 • 100 mm (H • B • T) | 100 • 245 • 100 mm (H • B • T) |