Blog
Between 27 January and 3 February, Baden-Württemberg International (bw-i), the competence center of the federal state for opening up foreign markets, together with the federal state agency Umwelttechnik BW GmbH, organized a entrepreneurial visit to India.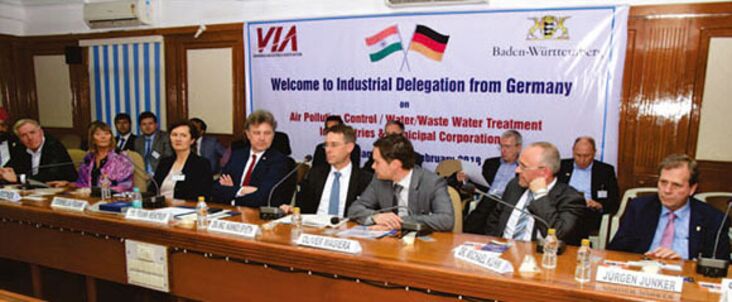 Figure: Participants of delegation journey Baden Württemberg International (bw-i) with the mayor of Karlsruhe Dr. Frank Mentrup. Photo: Let's Bridge IT, Ashish Pandit

The focus was on air pollution control, as well as on water and waste. In workshops and round-table discussions and visits to producing companies, the firms from Baden-Württemberg were able to present their solutions. Visits were made to the megacities of Mumbai and Pune, the partner city of Karlsruhe, along with the Solapur and Nagpur, also known as "second tier cities", i.e. cities that have not been so much in focus to date.
For Palas®, especially air pollution control was of interest on this journey. As the Indian state is advancing the development of "smart cities" and these have to monitor air pollution control, good opportunities exist for the Fidas® series of certified fine dust measuring devices. Sales engineer Sven Schütz managed to make a number of interesting contacts on the journey. Agreements were concluded for testing Fidas® with the National Environmental Engineering Research Institute (NEERI), which also supervises the entire Indian measurement network.
To round off the journey, the Indian hosts celebrated the now 50-year-old partnership with their guests from Baden-Württemberg in a befitting way with the wine festival "Mumbai meets Stuttgart".