Blog
Cooperation in the field of filter testing in accordance to ISO 11057
Palas
®
GmbH and FilTEq GmbH from Karlsruhe agreed on a strong cooperation in the field of
filter testing in accordance to ISO 11057
. From now on, the two suppliers of filter test rigs cooperate intensively in the sector of
testing cleanable filter media
.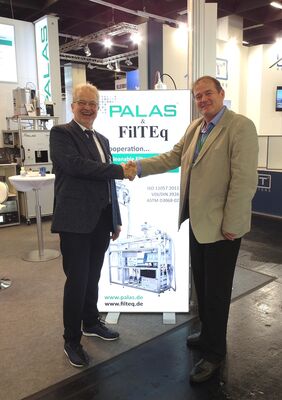 With the test rig
MMTC 2000
for cleanable filter media according to
VDI 3926
, Palas
®
offers the testing technology for fast quality control. With the
reference system according to ISO 11057
, FilTEq has developed a worldwide recognized system for testing in accordance to this guideline. According to the customers' demands, FilTEq and Palas
®
, two well-known suppliers of filter test rigs, therefore can serve the entire spectrum. First, the cooperation starts in the field of Marketing and Sales and shall be expanded to Service and Maintenance and the building of test rigs, later.
The worldwide market leadership of both cooperation partners in this field will further be strengthened by this cooperation and the perfect testing method for cleanable filter media will be offered to the user from just a single source.
Contact
FilTEq GmbH
or
Palas ® GmbH
today!
Leander Mölter (managing director of Palas® GmbH) and Dr Peter Gäng (managing director of FilTEq GmbH)
Photo: Palas
®
GmbH