Blog
Palas® would like to thank all booth visitors for the interesting talks!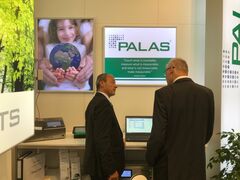 Of course Palas® wouldn't miss this year's ACHEMA in Frankfurt, Germany from June 11 - 15, 2018.
Main focus of the booth was measuring PM1, PM2,5 and PM10. Palas® displayed the products DustView II, Fidas Frog® and Promo® 2000 H, as well as our new product LDD 100 H, a heatable dilution system, which can dilute droplets up to 10 µm.
We were delighted about the many international visitors, which definitely shows the attractivity of Palas® products.