Blog
In recent months, Palas® has raised its production capacities for the Fidas® fine dust monitoring systems by 50% in response to the high demand.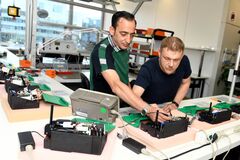 Picture: Expansion of the production and storage capacities at Palas®. In the picture: our employees Giovanni di Leo (left) and Adam Spallek, Head of Production, assembling the Fidas® Frog.
The production spaces at the site in Greschbachstrasse 1 in Karlsruhe has been further extended and also the storage areas increased. In this context, a central warehouse was also established. Incoming and outgoing goods are now handled exclusively through the Greschbachstrasse 1 site.