Blog
Politicians Daniel Caspary (MEP) and Steffen Bilger (MdB) inform themselves about fine dust measurement at Palas
On Wednesday (August 8), CDU politicians Daniel Caspary and Steffen Bilger visited Palas GmbH in Karlsruhe to find out more about particulate matter measurement. Daniel Caspary comes from Weingarten in Baden and is chairman of the CDU/CSU group in the European Parliament. Steffen Bilger has his constituency in Ludwigsburg and is Parliamentary State Secretary in the Federal Ministry of Transport and Digital Infrastructure in Berlin. The background to the visit was the current discussion about driving bans in individual cities in view of high levels of particulate matter. Palas® offers certified fine dust measuring devices with the Fidas® System, which continuously measure the air pollution with the fine dust fractions PM10 and PM2.5 simultaneously on the basis of single particle counting in many measuring stations in Baden-Württemberg. In addition, the associated particle size distribution is determined at any time.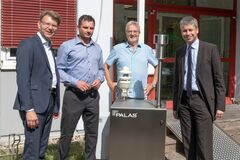 After a short introduction of the company by the company founder and managing director Leander Mölter and the product range by the sales manager Ralf Emberger, managing director Dr. Maximilian Weiß showed effects in the positioning of fine dust measuring instruments to determine representative measurement results using the examples of Germany and the USA. According to a recent study by the American Environmental Protection Agency (EPA), increasing the distance of the measuring device from the emission source by a few meters has a considerable influence on the measured values for fine dust and nitrogen oxide measurements in road traffic. These factors should be taken into account when comparing measurement data. Ultimately, according to Dr. Weiß, it is important that, as the long-term comparison of the measurement data, e.g. also at the locations in Stuttgart (Neckartor and Hohenheimer Straße), shows, the environmental pollutants in the air are continuously decreasing and the trend is thus moving in the right direction. It is equally important to measure with high-quality and certified measuring instruments so that one can rely on the data. Here Palas® offers proven and reliable measurement technology up to particles in the nano range.
After the discussion and the lectures, both politicians expressed their thanks for "new information and exciting insights".