Blog
Successful opening to the new series of events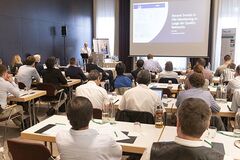 As previously reported, we have converted the successful seminar series Palas® ATS into a new format. Now every other year we invite participants to the Air Filtration Seminar (AFiS) with topics related to filter testing and in the years in between to a network meeting on diverse topics. Following last year's very well-attended AFiS, the premier of this new seminar series on 18 September was also extremely well received.
Entitled "PM2.5 Monitoring – What's Next?", over 50 participants discussed with international experts and speakers from industry, universities, networks and certification bodies, how the next stage of monitoring air quality might look. The seminar was moderated by Prof. Achim Dittler, Head of the Working Group on Gas-Particle Systems at the Karlsruhe Institute for Technology (KIT).
The presentations ranged from the current debate on fine dust pollution in urban centers and its implications for human health to the limits and possibilities of the measurement technology to be used. Other topics of interest included the examination of nanoparticle release and air quality at the workplace, investigation of the issue of ultra-fine dust at airports and in automotive technology, as well as the initial concepts for inner-city fine dust filtration and mobile vehicle and drone-based fine dust measurement.
We would like to thank the attendees for their active participation and look forward to the next Palas® Seminar with you.