Blog
At this year's Palas® Sales Partner Meeting the annual Best Sales Award was presented again. This year it went to AirMonitors, the Palas® Sales Partner from UK.
Air Monitors achieved considerable growth in 2018, investing heavily in its online presence and positively influencing the perception of particulate matter measurement across Europe.
"I want to thank all people at Palas
®
, particularly Mara and her team for the support in the last few years. And also everybody behind; the order processing department, shipping and the whole team. Palas
®
is the most efficient responsive manufacturer that listens to all we need", says Jim Mills, CEO of Air Monitors Ltd.
We would like to thank everyone at AirMonitors for their active support and are more than happy to have them as partners at our side. Thank you very much for your commitment and support in 2018, we are looking forward to the future together!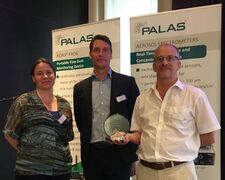 Pictured: Felicity Sharp (Air Monitors Ltd, ACOEM Group UK), Dr. Daniel Auer (Palas GmbH), Jim Mills (Air Monitors Ltd)