Blog
Invitation to podium discussion and network meeting on September 18 and 19, 2018, in Karlsruhe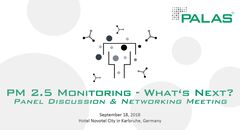 Many of the Palas® customers and partners still remember the ATS seminar series, which was highly popular for over 30 years and took place for the last time in 2016. This series of seminars has now been translated into a new concept in which the Air Filtration Seminar (AFiS) examines topics related to filter testing every two years with current topics addressed in new events in the years in-between. In 2018 this will be the technical seminar with podium discussion and network meeting entitled "PM2.5 Monitoring – what's next?", investigating trends in monitoring air quality with the latest developments and challenges.
Both the new formats share an international orientation and hence English as the presentation language. The technical seminar will be held on 18 September 2018 in the Novotel City hotel in Karlsruhe. Meet experts and speakers from industry, universities and certification bodies and find out how you can take monitoring of air quality to a new level. The expert discussions deal with topics like health, drone-based mobile monitoring, as well as the opportunities and challenges of low-cost sensors based on the latest CEN and ISO guidelines for (ultra) fine dust monitoring, e.g. at airports.
The get-together with dinner takes place on the evening of September 18, and on September 19 you can also optionally participate at workshops featuring fine dust and ultra-fine dust monitoring devices.