Blog
Following the very successful Filtech trade fair in the first quarter of 2018, Palas® was also represented worldwide at numerous trade fairs and events in the second quarter.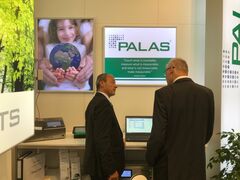 Picture: We had many interesting talks at the trade fairs of the 2nd quarter - here at the ACHEMA in Frankfurt, Germany

A special highlight here was ANEX (6 – 8 June, 2018) staged this time in Tokyo, Japan. The RBG 1000, the Promo® 2000 and a Fidas® Frog were displayed on the stand. We were very pleased about the great visitor response and would like to participate again at the next ANEX in Asia.
We were represented on a communal stand from the ClustAir Baden-Württemberg alliance of SMEs at the IFAT, the trade fair for water, sewage, waste and raw materials management, held 4 - 8 May, 2018 in Munich. The devices exhibited were the mobile, battery operated aerosol spectrometer Fidas
®
Frog and the certified fine dust measuring device Fidas
®
200 for regulatory fine dust measurement.
This year's ACHEMA in Frankfurt (11 – 15 June, 2018) would clearly not have been complete without Palas
®
. This time the focus was on measurement of PM
1
, PM
2.5
and PM
10
values. The devices demonstrated were DustView II, Fidas Frog
®
and Promo
®
2000 H. A new product we presented was the LDD 100 H, a heatable dilution system, which can dilute droplets up to 10 µm for the first time. We were delighted about the large number of international visitors, which clearly indicates the attractiveness of the Palas
®
products. The new design of our exhibition stand also drew praise from many visitors, which also very pleased about, of course.