MyAtmosphere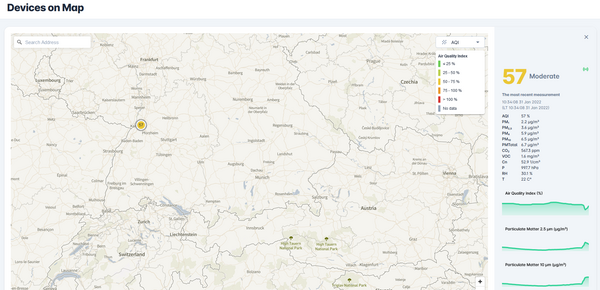 Comprehensive solution to measure, visualize and documenting air quality – in real time.
We make air quality visible: by measuring it with our high-precision instruments* and collecting and visualizing it via our cloud-based data platform.
MyAtmosphere is a comprehensive solution for effective and efficient air quality information management – from data collection to communication with third parties. Whether it's air pollution caused by urban traffic, construction sites, industry, landfills, or open pit mining: With MyAtmosphere, you can easily monitor, understand and document air quality.
*Instruments are not included.
Operation principle
As a cloud-based data platform, MyAtmosphere enables the monitoring, documentation, and visualization of air quality parameters.
Automatic visualization of measurement data with export function (svg, png)
Intuitive site management for devices and data
Simple measurement data comparisons between sites
Alarming (e-mail) according to individually adjustable limit values
(Requires internet connection of the device)
Convenient data export for further analysis based on a selection of location, time period, parameters, data aggregation
Standardized integration with third-party solutions through optional API
Learn more about our air quality monitoring equipment rental solution - if you want with MyAtmosphere.
Fig. 1: Display of devices on map
Fig. 2: Display of daily measurements per day in the calendar
Fig. 3: Display of detailed measurements
Benefits
Your special advantages
Comprehensive know-how of the Palas® aerosol experts

High-precision and smart measuring instruments

Cloud-based acquisition, analysis and documentation of your collected data

Intuitive visualization software

Save time and money: no third-party software required for visualization and communication

Access data from anywhere, at any time – with any device

Simplified management of multiple monitoring projects

Integration and remote management of Palas® instruments*
*Not included in MyAtmosphere.
Applications
Individual solutions for various industries
Network with roads, rails & ports

Smart city
Open pit mining & landfills
Construction sites
Industry
Natural risk areas
Technical features
In detail
Reported data

PM1, PM2,5, PM4, PM10, PMTotal, CN, Druck, Temperatur, relative Luftfeuchte
optional: CO, O3, SO2, NO2 (Geräteabhängig)

Data logger storage

1-minute-average for 24 h, 15-minute-average for 2 years
Downloads
More information about MyAtmosphere
---
---
---
---
Shopping cart
Your individual configuration
Do you have questions about our products or services or do you need more information about a delivery status?