ENVI-CPC 200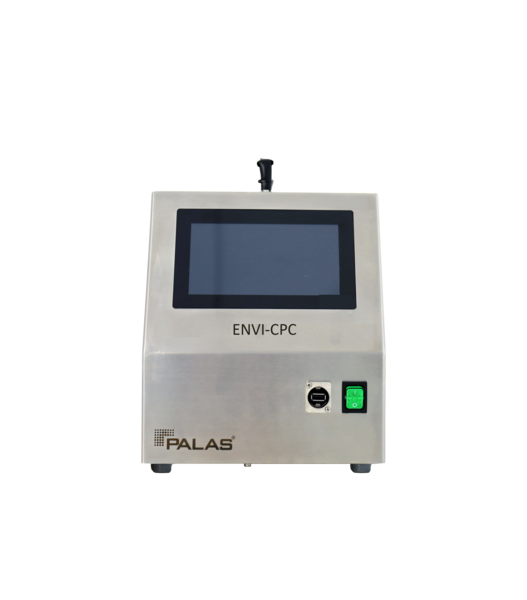 Nanoparticle counter for ambient air monitoring with integrable NAFION® aerosol dryer (optional) and high volume flow for up to 2 • 106 particles/cm3 (single count mode)
The ENVI-CPC 200 is currently the only butanol-based particle counter with high efficiency, which can directly determine the highest concentrations of 2 • 10
6
particles in single counting mode in high resolution without dilution. It is part of our modular nanoparticle measurement system. It can be combined arbitrarily with different systems to measure ultrafine particles. Likewise, it is particularly suitable for long-term measurement of combustion or other aerosols with high concentrations of nanoscaled particles.
The patented evaporator and condensation module is maintenance-free. This allows continuous operating times of up to one year without maintenance and cleaning - unique.
The system meets the requirements of the current standard CEN / TS 16976:2016 (Harmonized measurement of number concentrations using CPC) in all areas. It can be operated directly with a NAFION® based sampling system if desired. The pumps required for this are already integrated.
Norms and certificates
National and international standards
CEN / TS 16976:2016
Operation principle
Nanoparticle counter for ambient air monitoring with integrable NAFION® aerosol dryer
The aerosol pre-dried by the NAFION
®
dryer is fed directly to the evaporator unit by the internally adjustable and controlled diaphragm pump, which is saturated with the working liquid n-butanol. From there, it flows to the base of the evaporator in a spiral trough placed inside the cylinder. The non-evaporated residue is pumped back into the reservoir by a second pump. This actively ensures permanent saturation of the evaporator and simultaneously prevents deposits from forming on the inner walls.
In contrast to a control with a critical nozzle, contamination of the system cannot lead to a drop in the volume flow. This is especially important for long-term measurements in the ambient air. The user can calibrate the volume flow.
The detection of the condensed particles is done by an optical sensor, which determines the concentrations and size distribution of the condensed particles and thus allows a simple and efficient quality control.
In addition to the usual factory calibration and adjustment of the cut-off according to CEN / TS 16976, Palas® offers certification of the instrument at the WCCAP (World Calibration Center for Aerosol Physics at the Leibniz Institute for Tropospheric Research).
The ENVI-CPC system has a 7" touch display for visualization and control. The system supports a standardized interface with different remote control and network application protocols, e.g., Modbus and Bayern-Hessen protocol. All necessary calculations and evaluations are performed directly on the device. A laptop for monitoring, changing settings, or visualization is not needed.
---
Comparison measurements
Fig. 1: Counting efficiency curve of the ENVI-CPC system measured at the Leibniz Institute for Tropospheric Research
---
Extensions/Accessories
The ENVI-CPC system can be equipped with a meteorological sensor that monitors temperature, pressure, humidity, wind speed, wind direction, and precipitation type and intensity of the outdoor air. A climate-controlled weather protection enclosure is available.
Benefits
Your special advantages
The unique, patented way of providing the working fluid for unattended operation for months

Depending on the sensor used (exchangeable by the user), the ENVI-CPC 200 counts up to 2 • 106 particles/cm3 in count mode

Ambient air monitoring without a dilution system

Integrated computer with 7'' touch screen

Intuitive user interface with sophisticated software for data evaluation

Integrated data logger

Limitless, integrated network connectivity that supports remote operation and data storage on the internet

Powerful software package
Applications
Individual solutions for various industries
Aerosol Research
Environmental measurements
Environmental monitoring measurement networks
Workplace safety and occupational exposure studies
Traffic emission monitoring
Health studies
Mobile aerosol studies
Technical features
In detail
Measurement range (number C_N)

2 • 106 particles/cm3 (single count mode)

Measurement range (size)

4 – 5,000 nm

Detection efficiency (at low particle size)

D50 = 7 +/- 0.7 nm; D90 < 14 nm

Volume flow

0.9 l/min

Data acquisition

Digital, 20 MHz processor, 256 raw data channels

Light source

Long term stable LED

User interface

Touchscreen, 800 • 480 pixel, 7" (17.78 cm)

Weight

Approx. 10 kg

Accuracy

5% (Einzelzählmodus)

Response time

t90 < 3 s

Operation liquid

Butanol

Installation conditions

+10 – +30 °C (others on demand)

Interfaces

USB, Ethernet (LAN), RS-232/485

Dimensions

330 • 380 • 240 mm (H • W • D)

Data Management

Prepared for connection to the Palas®Cloud MyAtmosphere ("MyAtmosphere-ready"); internet access and separate registration required.MyAtmosphere terms and conditions of use apply.
Shopping cart
Your individual configuration
Options
Options suitable for this device
Related products
Discover similar products
Sustainable
MCERTS Sira MC 160290/03
TÜV Rheinland
MyAtmosphere