Fidas® Smart 100 E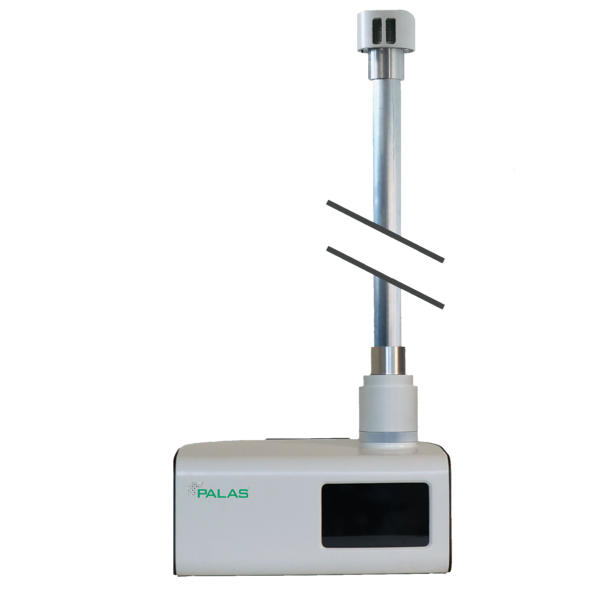 Fine dust measuring device for existing roof openings for measuring PM2.5 and PM10 (EN 16450 certified) and other parameters such as PM1, PM4, TSP
Due to its extended and TÜV-approved inlet, the Fidas® Smart 100 E is ideal for retrofitting in existing measurement containers - supplementary for individual fractions (PM2.5 or PM10 only) or as a replacement for existing systems.
Norms and certificates
National and international standards
TÜV Rheinland MCERTS
Operation principle
You can find more about the operating principle in the model description
Fidas® Smart 100
.
Benefits
Your special advantages
Extended inlet for installation in existing measuring containers

Technology based on the certified Fidas® 200 series (EN16450 and MCERTS); simultaneous measurement of Cn, PM1, PM2.5, PM4, PM10


High accuracy due to advanced algorithms

Long-term stable due to self-calibration; up to 2 years of operation without calibration possible.

On-site recalibration with test dust (NIST traceable) is possible

Operation with AC or DC power source

Long-life blower for sample airflow

Regulated aerosol heating to avoid condensation
Applications
Individual solutions for various industries
Regulatory environmental monitoring
Construction sites
Networks with roads, railways, and ports
Smart City
Occupational safety
Industry
Technical features
In detail
Measurement range (number C_N)

0 – 20,000 particles/cm³

Size channels

64 (32/decade)

Measurement range (size)

0.18 – 18 µm (certified range, other measuring ranges on request)

Measuring principle

Optical light scattering at single particles

Reported data

PM1, PM2.5, PM4, PM10, TSP, CN, particle size distribution, ambient pressure, ambient temperature, rel. ambient humidity

Measurement range (mass)

0 – 20,000 µg/m³

Measurement uncertainty

9.0 % for PM2.5, 9.7 % for PM10 (expanded measurement uncertainty according to EN 16450, TÜV Report)

Volume flow

1 l/min ≙ 0.06 m³/h

Time resolution

1 s – 24 h

Data acquisition

Digital, 22 MHz processor, 256 raw data channels

Light source

Long term stable LED

Power consumption

Normal operation: 15 W, max. 60 W

User interface

Touchscreen 800 • 480 Pixel, 5" (12,7 cm )

Housing

Polymer housing with weather protection and tripod/wall/pole mount option

Weight

3.9 kg

Operating system

Windows 10 IoT Enterprise

Data logger storage

10 GB

Software

PDAnalyze

Response time

< 2 s

Installation conditions

-20 – +50 °C (weatherproof)

Interfaces

USB, Ethernet (LAN), Wi-Fi, 4G

Protocols

UDP, ASCII, Modbus

Power supply

115 – 230 V, 50/60 Hz

Dimensions

240 • 320 • 190 mm (H • W • D)

Sampling system

Drying of the aerosol by compact IADS (Intelligent Aerosol Drying System) -
Version E: extended inlet for installation in measuring containers

Noise emission

< 40 dB(A)

Resolution

0.1 µg/m3

Power consumption

Normal operation: 15 W, max. 60 W

Data Management

Prepared for connection to the Palas®Cloud MyAtmosphere ("MyAtmosphere-ready"); internet access and separate registration required.MyAtmosphere terms and conditions of use apply.
Downloads
More information about Fidas® Smart 100 E
---
---
---
---
---
---
Shopping cart
Your individual configuration
Options
Options suitable for this device
Related products
Discover similar products