MAG 3000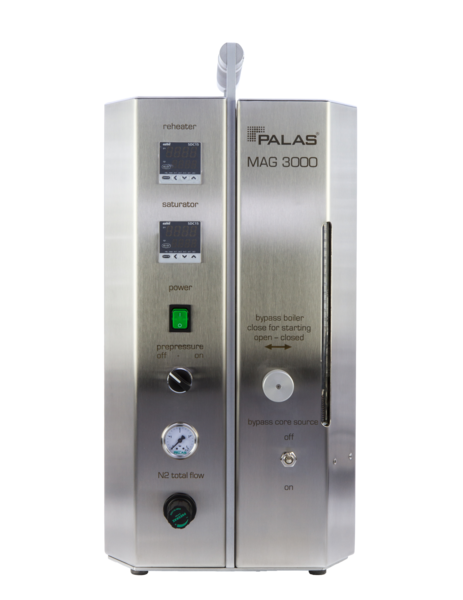 Aerosol generator for the generation of monodisperse and uncharged droplets, dp = 0.2 – 8 µm
The MAG 3000 operates based on the Sinclair-LaMer principle (1943). It comprises a core source to generate condensation cores with a particle diameter of approx. 85 nm, a vaporizer to vaporize the particle-forming material, a reheating unit, and a condensation flue, in which the particle-forming material condenses on the condensation core. The condensation process here is heterogeneous.
Operation principle
Aerosol generator for the generation of monodisperse and uncharged droplets
The centerpiece of the MAG 3000 is the core source developed by Palas® with bypass technology. No drying system!
Fig. 1: Setup of Sinclair-LaMer aerosol generator
Fig. 2: Setup of MAG 3000 aerosol generator
The new core source atomizes approx. 20 mL saline solution in only 10 hours and requires no drying system due to the very small droplets.
Conventional Sinclair-LaMer generators, including past generators by Palas® GmbH, use a so-called Collison atomizer. The concentration constancy, high mass flow, and the resulting need for a drying system did not meet our quality requirements concerning reliability and easy operation.
Startup and particle size adjustment
1. Temperature change in the vaporizer (Fig. 3)
Suppose the temperature is increased in the vaporizer. In that case, more vapor is generated per period, making more particle material available to each core at the same core concentration, increasing the particle diameter. This process stabilizes within a few minutes.
2. Bypass around the vaporizer (Fig. 3)
This bypass enables the particle size to be rapidly changed by a factor of approx. 2.5 in approx. 10 seconds. Opening this bypass valve releases less vapor from the vaporizer, decreasing the particle diameter.
3. Bypass around the core source (Fig. 3)
Opening the bypass valve on the core source means fewer cores reach the vaporizer, generating larger particles in approx. 10 seconds. This bypass is used to generate particles > 5 µm.
4. The MAG 3000 meets all definitions concerning monodispersity as per VDI 3491 - page 4.
Fig. 4 presents the tight particle size distributions able to be generated with the MAG 3000.
Fig. 3 Monodisperse particle size distributions
Fig. 4: Example of a MAG 3000 calibration curve for DEHS
Benefits
Your special advantages
Particle size adjustable from approx. 0.2 to 8 µm for DEHS (other particle materials upon request)

Reproducible particle size adjustment (uncharged aerosols)

Minimal use of the saline solution, approx. 20 mL in 10 h

No drying system, no silica gel

Reliable bypass adjustments for the evaporator and core source

Rapid particle size modification up to factor 2.5 within approx. 10 seconds using the bypass adjustments

Robust design

Reliable function, high reproducibility

Low maintenance

Reduces your operating expenses
Applications
Individual solutions for various industries
Calibrating particle measurement devices
Comparison of device parameters about particle size:

Resolution capacity
Classification accuracy
Lower counting efficiency rate
Upper counting efficiency rate
Border zone error

Inhalation tests
Tracer particles/flow visualization
Filter inspection
Technical features
In detail
Volume flow

3.5 – 4.5 l/min

Weight

Approx. 22 kg

Particle material

DEHS, others on request

Maximum particle number concentration

106 particles/cm3

Carrier/dispersion gas

N2

Aerosol outlet connection

Outlet 1: Øinside = 8 mm, Øoutside = 10 mm; Outlet 2: Øinside = 18 mm, Øoutside = 20 mm

Power supply

115 – 230 V, 50/60 Hz

Mean particle diameter (number)

0.2 – 8 µm (DEHS)

Geometric standard deviation (number)

< 1,15

Filling quantity

300 ml (DEHS), 70 ml (salt solution)

Dimensions

610 • 300 • 300 mm (H • W • D)
Shopping cart
Your individual configuration
Options
Options suitable for this device