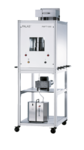 MFP System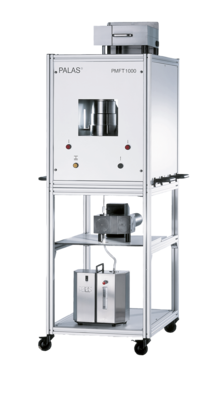 Modular filter media testing system for quick determination of fraction separation efficiency, burden and pressure loss in accordance with the standards and based on customer requirements
With the MFP series, Palas® offers high-precision testing systems for filter media's development and quality control. From HEPA qualities with high separating efficiency to pre-filtering qualities, the test rigs in the MFP series deliver precise, fast, and cost-effective testing results.
Based on the test requirements specified in standards like ISO 16890, EN779, ASHRAE 52.2, DIN 71460-1, ISO/TS 11155-1, ISO 5011, ISO/TS 19713, EN 1822, and ISO 29463 or based on special practical requirements, the MFP test rigs are equipped with different systems for the aerosol generation, electrical discharge of aerosols, aerosol dilution and air humidifiers.
The clear determination of the fraction separation efficiency is performed highly accurately using the aerosol spectrometers Promo® 1000, 2000, and 3000. The wide range of interchangeable welas® sensors allows the measuring system to be perfectly fine-tuned even for particle concentrations up to 1 g/m3 with SAE dust in accordance with ISO 12103-1.
The MFP series is used with great success all around the world.
Differences of MFP models
Test rig

MFP 1000

MFP 2000

MPF 3000

MFP 4000

Measurement device

welas®digital 1000

welas®digital 2000

welas®digital 3000

two Promo®2000

Measurement range

0.12 – 3 µm
0.2 – 10 µm
0.3 – 17 µm
0.6 – 40 µm

0.2 – 10 µm
0.3 – 17 µm
0.6 – 40 µm

0.2 – 10 µm
0.3 – 17 µm
0.6 – 40 µm

0.2 – 10 µm
0.3 – 17 µm
0.6 – 40 µm

Specials

pressure mode

pressure mode

suction mode and quasi simultaneous measurement with one measurement device and two aerosol sensors

suction mode and simultaneous measurement with two measurement devices and one aerosol sensor for each device

Maximum concentration

up to 500 mg/m³

up to 500 mg/m³

up to > 1000 mg/m³

up to > 1000 mg/m³