P-MFP inline 2300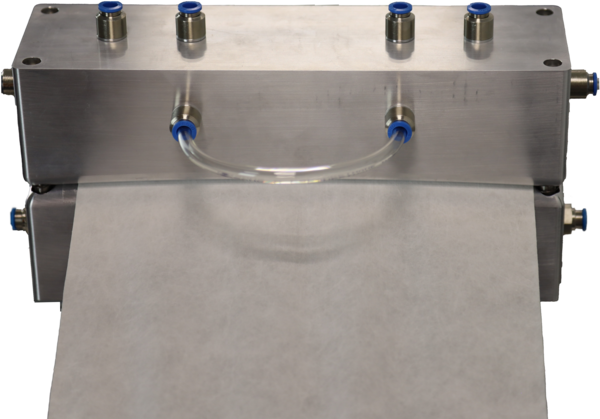 Inline penetration test concerning the quality of the filter material directly during production
The P-MFP inline 2300 enables 100 % control of flat filtration media without influencing it.
For quality assurance of filter media, a salt aerosol is applied in a defined manner, and the particle size is measured before and after the medium using the aerosol spectrometer.
This allows penetration/filter efficiency, pressure drop, and breathing resistance to be measured at 100 % of the material, thus providing a statement on quality. This data can also be used to control processes in manufacturing and processing plants. It is also possible to use the P-MFP inline 2300 as a "stand-alone" solution and thus perform outgoing and incoming goods inspections.
Operation principle
Inline penetration test
In the P-MFP inline 2300, the belt material is fed through a custom-made carriage and exposed to salt aerosols via an aerosol generator. This is a medical-grade salt aerosol with an extremely low mass concentration. This prevents the belt material and its filtration properties from being affected. The aerosol spectrometer measures the aerosol concentration before and after the filtration medium, thus measuring the filter efficiency. Differential pressure sensors are also used to measure the pressure difference, which allows conclusions to be drawn about breathing resistance.
Depending on the application, the P-MFP inline 2300 can be implemented directly in the production line or as a separate measuring station. Thus, it is possible to qualify 100 % of the strip material.
Benefits
Your special advantages
100 % quality control


Continuous monitoring and logging of actual product quality


Filtration characteristics, as well as pressure difference and/or respiration resistance for the entire belt material


Individually adjustable limit values related to particle concentration difference and/or pressure difference


Possibilities for incoming as well as outgoing goods inspection


Cost optimization


Reduction of rejects


Optimization of production efficiency


Easy integration into existing plant


Modularity


Adaptation of all components to the respective application possible


Retrofittability of existing systems


Easy to maintain

Applications
Individual solutions for various industries
Mask making

Nonwoven fabric production

Production of filtration media (e.g., a combination of several layers of material)

Production of filters (e.g., nonwoven roll at the beginning, pleated filter at the end)

Technical features
In detail
Aerosols

Salts (NaCl)

Compressed air supply

6 – 8 bar

Interfaces

USB-C, ethernet (LAN), RS-232, analog/digital signal

Belt width

250 – 1,000 mm (customer-specific adaptations possible)

Belt thickness

1 – 10 mm (customer-specific adaptations possible)

Belt speed

Depending on application (customer-specific adaptations possible)

Protocols

TCP/IP, Modbus, UDP

Power supply

115 – 230 V, 50/60 Hz

Dimensions

Inline: customer-specific adaptations,
stand-alone: possible for roll widths 250 - 1,000 mm
Shopping cart
Your individual configuration
Do you have questions about our products or services or do you need more information about a delivery status?