DEMC 1000 X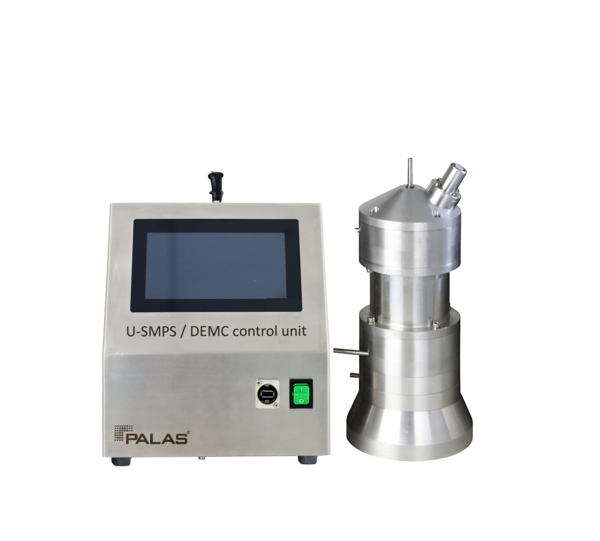 Differential electrical mobility classifier from 4 – 600 nm with integrated X-ray ionization
A soft X-ray source as a neutralizer is already integrated. The advantage instead of a radioactive neutralization (for example, with Kr-85) is that there is no need to follow requirements during transportation.
Norms and certificates
National and international standards
ISO 15900
Operation principle
You can find more about the operating principle in the model description
DEMC 1000
.
Benefits
Your special advantages
The user is able to select any size within the defined size range.

The DEMC can be connected to many counters to form an SMPS.

Continuous and fast-scanning principle of measurement

Graphic display of measurement values

Intuitive operation using 7" touchscreen and GUI

Integrated data logger

Low maintenance

Reliable function

Reduces your operating expenses
Applications
Individual solutions for various industries
Calibration of condensation particle counters (CPC)
Monodisperse particle source
System component of an SMPS
Technical features
In detail
Size channels

Max. 256 (128/decade)

User interface

Touchscreen, 800 • 480 pixel, 7" (17.78 cm)

Data logger storage

4 GB

Software

PDAnalyze

Classifying range (size)

4 – 600 nm

Adjustment range (voltage)

1 – 10,000 V

Volume flow (sheath air)

2.5 – 14 l/min

Impactor

Nozzle for 3 different cut-offs

Installation conditions

+5 – +40 °C (control unit)

Neutralizer

XRC 049

Data Management

Prepared for connection to the Palas®Cloud MyAtmosphere ("MyAtmosphere-ready"); internet access and separate registration required.MyAtmosphere terms and conditions of use apply.
Shopping cart
Your individual configuration
Options
Options suitable for this device