FTControl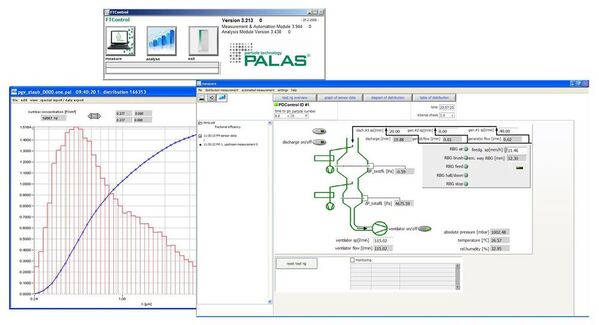 Software for filter testing
The FTControl software is used for the reliable and economic performance of filter tests and fractional separation efficiency measurements with the welas® digital and Promo®optical aerosol spectrometer.
The FTControl software gives users special advantages, including individually programmable sequences for fractional separation efficiency measurement. A simple menu navigation system guides the user through the measurement program, and the results are automatically calculated and displayed.
Individual test rig components, such as volume flow controls, aerosol generators, and a measuring point switch, can be controlled using the integrated test rig control system, resulting in fully automated filter tests.
Palas® software solutions in particle measurement technology, filter testing, and test rig control are based on our many years of experience. They have been continuously optimized and further developed in close collaboration with our international customers based on their requirements.
As a result, Palas® software is efficient and provides many advantages in daily applications.
We will be happy to send you our demo software.
Operation principle
Control of entire filter test rigs
Example: MFP 1000 automated filter test rig
Automated components: RBG 1000 aerosol generator, Promo® 1000, volume flow control,

Integrated sensors: Differential pressure, temperature, relative humidity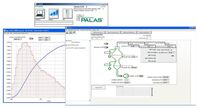 Individually configurable sequence programs
Examples:
Fractional separation efficiency measurement with

Automatic control of crude gas/pure gas
Selection of measurement time in crude gas/pure gas
Selection of number of repeat measurements

Service life measurement, filter behavior during dusting

Such as fractional separation efficiency measurement
Discontinuation criterion for measurement of discharge pressure loss or time

Pressure loss measurement

Measurement of the undusted filter at various specified volume flows
External sensor data are recorded and stored in parallel FTControl offers numerous other options, test conditions, and test time sequences to define automated measurements.
Display and comparison of fractional separation efficiency
Example: Comparison of 8 fractional separation efficiencies for quality assurance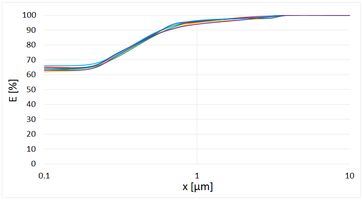 Display and comparison of pressure loss curves and retention during loading of filters over time
Example: Comparison of the pressure loss curve and overall retention of 3 filter media during dusting, as measured on the MFP 3000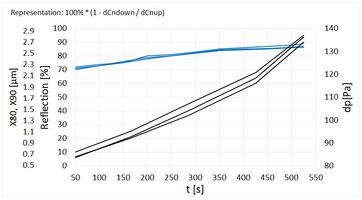 Display and comparison of particle size distributions, e.g., number, volume, mass distribution
Example: Comparison of the particle size distribution for crude (blue) and pure (red) gas measurement during filter testing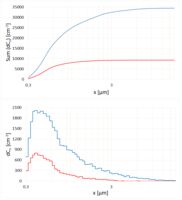 Analysis in table form, including the test conditions
Example: Fractional separation efficiency measurement on the MFP 2000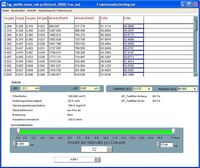 Benefits
Your special advantages
Optimal information content:

Display and comparison of fractional separation efficiency

Averaging of fractional separation efficiency

Display and comparison of pressure loss curves and retention during the loading of filters over time

Display and comparison of particle size distributions, e.g., number, volume, mass distribution

All displays in the diagram and table form

Output of test reports (printer, PDF file, Excel export)

Option to control entire filter test rigs

Sequence program for

fractional separation efficiency measurement

Service life measurement

Pressure loss measurement

Individual test procedures

Filter testing as per EN 779

ISO 5011, ISO DIS 19713-1 and -2

Upon the request of the customer

Also, able to be used with other particle measuring devices

Acquisition and analysis in 1-s cycles

Easy installation

Clear structure

Short processing times

Easy to operate

Regular updates via the Internet free of charge

Unlimited copies for various workstations within a company

Reliable function

Reduces your operating expenses
Applications
Individual solutions for various industries
Determination of separation efficiency of
Car interior filters
Engine air filters
Ambient air filters
Compressed air filters
HEPA filters
Vacuum cleaner filters
Cleanable filters
Electrofilters
Oil separators
Cooling lubricant separators
Wet scrubbers
Cyclones and other separators
Technical features
In detail
Operating system

Windows® 7, Windows® 10

Processor

Min. Pentium I5, 2000 MHz

User memory

From 4 GB

Screen resolution

15.6" (min.1600 • 900 for Notebooks), 24" (min. 1920 • 1080 for PCs)

Measurement devices

welas® digital System, U-SMPS System, Promo® System
Shopping cart
Your individual configuration
Options
Options suitable for this device
Related products
Discover similar products