PDAnalyze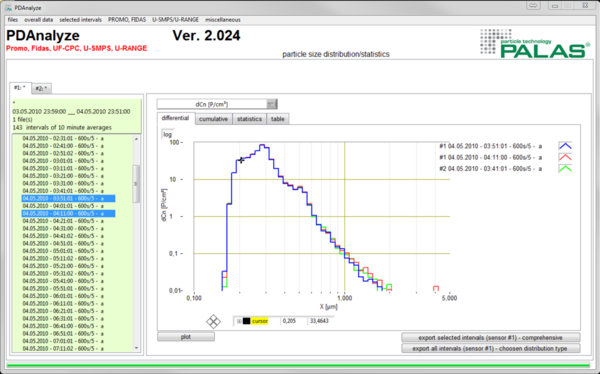 Software for management and particle size and concentration analysis of all stand-alone particle measuring devices
The PDAnalyze software is designed to acquire measurement values and data analysis by all stand-alone particle measuring devices. It enables quick and easy analysis of particle sizes and concentrations using the Promo® System, Fidas® System, UF-CPC System, U-SMPS System, and U-RANGE System.
Operation principle
Software for management and particle size and concentration analysis
The PDAnalyze software provides special advantages for analyzing and comparing concentration and particle size distributions using various displays and a uniform operating concept, regardless of the measuring device in use. In addition, it is also possible to set up a remote connection to measuring devices, which can be used to download measurement files and control measuring devices remotely.
Benefits
Your special advantages
Optimal information content

Display of distributions in the diagram and table form: Number, area, volume, concentration (number and mass)

Time sequence of fine dust values

Comparison of multiple distributions in one diagram

Display, time sequence, and analysis of 24 statistical values

Acquisition and analysis in as little as 1 s

Rapid incorporation due to uniform interface, even with various measuring devices

Color plotting for the representative display of measurement results

Clear structure

Regular updates via the Internet free of charge

Easy data export to text file that can be imported into Excel.

Easy installation on the PC

Unlimited copies for various workstations within a company

Easy to operate

Reliable function

Reduces your operating expenses
Applications
Individual solutions for various industries
Particle measurement and particle size analysis
Comparing distributions from 5 nm to 100 µm
Evaluation of emission and immission measurements
Analysis of long-term measurements over days or months
Analysis of measurements by optical aerosol spectrometers, fine dust measuring devices, nanoparticle measuring devices
Optical processing of measurement data for use in presentations
Technical features
In detail
Operating system

Windows® 7, Windows® 10

Processor

Min. Pentium I5, 2000 MHz

User memory

From 4 GB

Screen resolution

15.6" (min.1600 • 900 for Notebooks), 24" (min. 1920 • 1080 for PCs)

Measurement devices

CPC System, U-SMPS System, Promo® System, Fidas® System
Shopping cart
Your individual configuration
Do you have questions about our products or services or do you need more information about a delivery status?