PLG System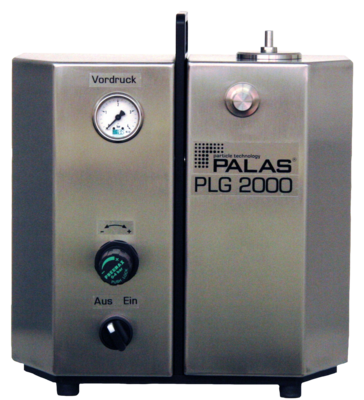 Liquid atomizer with Laskin nozzles, heatable, and resistant to positive pressure
To be able to perform practical analyses and comparisons, droplet aerosols must be generated from liquids that are also used in the real world. Fluids, such as water, DEHS, motor oils, white oil, etc., differ significantly in viscosity, surface tension, and density.
The PLG system uses a nozzle system specially developed by Palas® based on the Laskin principle, which guarantees highly constant particle size distributions and particle concentrations over long periods.
Various model versions have been developed for different applications. Depending on the model, the liquid can be heated to temperatures of up to 120 °C and atomized with various nozzles to other maximum mass flows of up to approx. 3 mg/h – 300 g/h. The nozzle can also be used at positive pressure values of up to 10 bar.
In addition, the aerosol generators can be equipped with an automatic refill unit to enable the aerosol material to be dispersed over several days.
Differences in PLG System
PLG 2000

PLG 2100

PLG 2000 H

PLG 2000 HS

PLG 2100 S

Volume flow
10 – 35 l/min
3 – 110 l/min
10 – 35 l/min
10 – 35 l/min
3 – 110 l/min
Weight
Approx. 9 kg
Approx. 16 kg
Approx. 11 kg
Approx. 12 kg
Approx. 18 kg
Special features
Heatable up to 120°C
Heatable up to 100°C
Heatable up to 100°C, with automatic refilling unit
Heatable up to 100°C, with automatic refilling unit
Dimensions
300 • 330 • 270 mm
(H • W • D)
440 • 380 • 380 mm
(H • W • D)
300 • 330 • 270 mm
(H • W • D)
300 • 330 • 280 mm (H • W • D)
440 • 380 • 390 mm
(H • W • D)