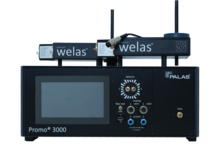 Promo® System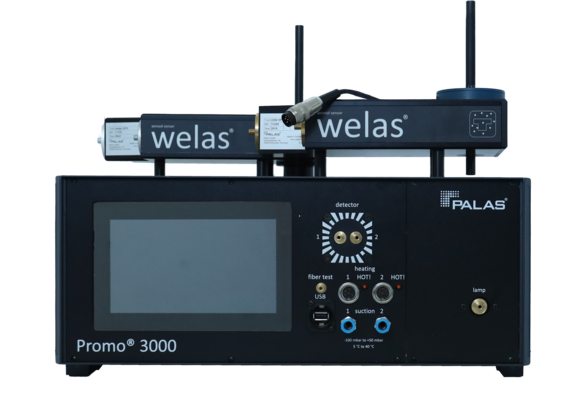 Aerosol spectrometer system for process measurement technology and monitoring applications with continuous measurement
Powerful scattered-light aerosol spectrometer system for particle measurement from 120 nm
Scattered-light aerosol spectrometer system for process measurement technology and monitoring applications with light wave conductor technology
Scattered-light aerosol spectrometer system for process measurement technology and monitoring applications with two sensors for quasi simultaneously measurements
The Promo® aerosol spectrometer system was developed for continuous process monitoring and is based on the welas® digital technology. Besides particle size distribution and particle concentration, up to 36 static distribution parameters are continuously measured with a minimum temporal resolution of 1 s.
Unique is up to four measuring ranges in only one device:
0.12 µm – 3.5 µm (additionally in welas® 1000 and Promo® 1000)
0.2 µm – 10 µm
0.3 µm – 17 µm
0.6 µm – 40 µm
2 µm – 100 µm (additionally for sensors 2300 and 2500).
welas
®
digital system and Promo
®
system are famous for up to 128 size channels per measuring range and a concentration range from < 1 particle/cm
3
to 10
6
particles/cm
3
.
Promo® is a standalone measuring device with an easy-to-operate integrated PC with a touchscreen.
Using various interfaces, such as Modbus, Promo® can be integrated into process control systems and operated with external software.
Unique in the world: The broad spectrum of easily exchangeable welas® aerosol sensors enables perfect matching of the measurement technology with the particle spectrum (120 nm to 100 µm) to be measured in particle concentrations of < 1 particle/cm3 up to 106 particles/cm3, also in overpressure up to 10 barg and temperatures of -120 °C to 470 °C.
Calibration can be performed on-site independently by the customer!
Differences between Promo®models
Promo® 1000

Promo® 2000

Promo® 3000

Measurement range (number CN)
< 5 • 105 Partikel/cm3
< 1 • 106 Partikel/cm3
< 1 • 106 Partikel/cm3
Measurement range (size)
0.12 – 3.5 µm, 0.2 – 10 µm, 0.3 – 17 µm,
0.6 – 40 µm
0.2 – 10 µm, 0.3 – 17 µm, 0.6 – 40 µm, 2 – 100 µm
0.2 – 10 µm, 0.3 – 17 µm, 0.6 – 40 µm, 2 – 100 µm
Volume flow
5 l/min, 1.6 l/min
5 l/min
5 l/min
Time resolution
≤ 1 s
≤ 1 s
Light source
Xenon Hochdrucklampe 75 W
Xenon Bogenlampe 35 W
Xenon Bogenlampe 35 W
Software
PDControl, FTControl
PDControl, FTControl, PDAnalyze
PDControl, FTControl, PDAnalyze