RBG 1000 GD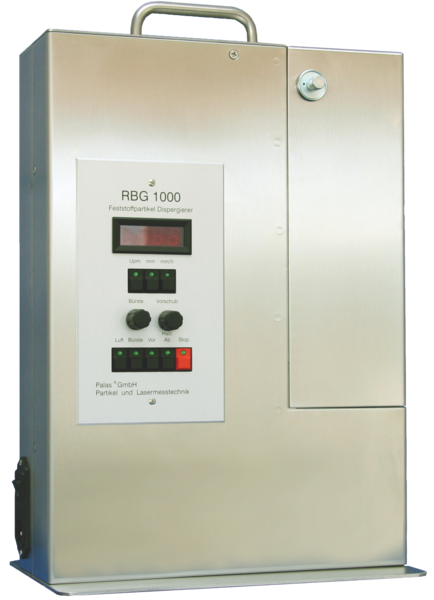 For very low feed rates starting at 3 mm/h, pressure-resistant at positive pressure values of up to 3 bar, optional low pressure operation from 300 mbar (absolute pressure)
The RBG 1000 G has a higher gear ratio. This means that at very low feed rates (< 10 mm/h) the feed rate can be better adjusted by means of a potentiometer.
Optional operation with low pressure from 300 mbar absolute is possible.
The feedstock reservoirs with a diameter of 7, 10, 14, or 20 mm are pressure-resistant.
For operation with low pressure, special pressure-resistant feedstock reservoirs are needed. Their piston is strongly connected to the feeding unit by a claw. This enables an undisturbed operation with low pressure. Old RBG models can be upgraded with this function by Palas®.
The feedstock reservoir with a diameter of 28 mm is not pressure-resistant but can be used with the RBG 1000 ID under atmospheric conditions.
In the RBG 1000 D pressure-resistant version, compressed air is used as the disgerger gas. Operation with nitrogen or other inert gases is not permitted.
Operation principle
You can find more about the operating principle in the model description
RBG 1000
.
Benefits
Your special advantages
Pressure-resistant up to 3 barg overpressure

Very low feed rates (< 10 mm/h) can be set precisely with the aid of a potentiometer

Optional: Remote control or computer-controlled
Applications
Individual solutions for various industries
All applications pressure-resistant up to 3 barg overpressure
Applications with very low feed rates (< 10 mm/h)
Testing of compressed air filters
Technical features
In detail
Volume flow

0.5 – 5.0 m3/h

Weight

Approx. 19 kg

Particle material

Non-cohesive powders and bulks

Dosing time

Several hours nonstop

Maximum particle number concentration

Ca. 107 particles/cm3

Mass flow (particles)

0.04 – 185 g/h (with an assumed compacted density of 1 g/cm3)

Particle size range

0.1 – 100 µm

Carrier/dispersion gas

Random (generally air)

Pre-pressure

4 – 8 bar

Maximum counter pressure

0.2 barg

Feed rate

5 – 700 mm/h

Compressed air connection

Quick coupling

Reservoir inner diameter

7, 10, 14, 20, 28 mm

Filling height

70 mm

Dispersion cover

Type A, type B, type C, type D

Aerosol outlet connection

Dispersion cover type A: Øinside= 5 mm, Øoutside = 8 mmDispersion cover type B: Øinside= 3.6 mm, Øoutside = 6 mmDispersion cover type: Øinside= 2.5 mm, Øoutside = 6 mm

Power supply

115 – 230 V, 50/60 Hz

Filling quantity

2.7 g (reservoir Ø = 7 mm), 5.5 g (reservoir Ø = 10 mm), 10.8 g (reservoir Ø
= 14 mm), 22 g (reservoir Ø = 20 mm), 43 g (reservoir Ø = 28 mm)

Dimensions

465 • 320 • 200 mm (H • W • D)
Shopping cart
Your individual configuration
Options
Options suitable for this device