U-SMPS 2050/2100/2200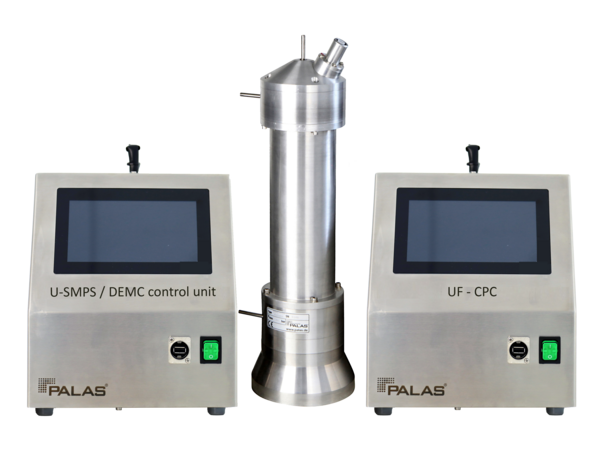 Universal scanning mobility particle sizer for various applications (8 – 1200 nm)
Palas® U-SMPS (Universal Scanning Mobility Particle Sizers) have been successfully used worldwide for many years for the precise selection of particle size with simultaneous measurement of the particle concentration of airborne particles in the sub-micron range. They make an essential contribution to research/development as a measuring instrument for determining the efficiency of filter media and elements and in the environmental field for determining the concentration and size of ultrafine particles.
Depending on the combination of classifying column (DMA), control unit (DEMC), and particle counter, they cover ranges from a few nanometers to several micrometers. Different combinations are possible depending on the application and customer requirements.
The maximum possible resolution is 128 channels/decade. Combined with an optical particle counter, the upper limit can be extended to 40 µm (U-Range System: U-SMPS System + Fidas® System or Promo® System).
Palas® U-SMPS System can be operated directly with max. two different counters and also accepts third-party products of well-known manufacturers for direct comparison.
Norms and certificates
National and international standards
ISO 15900:2000
Operation principle
Universal Scanning Mobility Particle Sizer for a measuring range from 8 to 1200 nm
Palas® U-SMPS systems work according to the principle of "electric mobility" of particles in the electric field and in ambient air, as described in ISO 15900:2000. Here, the particles in the aerosol are first brought into a neutral known charge equilibrium with known charge distribution (Bolzmann charge distribution) by different bipolar neutralizer systems (X-ray emitters, radioactive emitters) and then selected by size via the classifier column (Differential Mobility Analysis - DMA). The selected particles are detected and recorded using a counter (e.g., condensation particle counter or electrometer).
Particle-free enveloping air in the column carries the aerosol flowing in at the annular gap of the column to the opposite side of the column. At the same time, an electric field from the inner column outer wall to the inner center electrode displaces the particles horizontally to the electrode (capacitor). They drift after short acceleration with constant velocity and either reach the upper inner annular gap (exit to the counter) or are deposited at the electrode or carried out of the column via the enveloping volume flow and filtered off.
The change of the applied voltage at the electrode of the column (typically in the range of a few volts up to max. 10 kV) leads to different horizontal drift velocities in the column depending on the particle size and the number of charges on the particle. An "inversion algorithm" can be used to infer the particle size and concentration, as described in ISO 15900:2000. Instead of selecting individual particle sizes, the systems can display the size distribution and concentration in the set range in scan mode.
All settings can be accessed directly via the 7" touch screens, also used for the initial graphical processing and enabling the first comparisons. Measured values and sensor data are immediately and continuously recorded.
---
Extensions/Accessories
The U-SMPS system is usually operated as a stand-alone device. Still, it can be coupled with other systems via various interfaces (USB, LAN, WLAN, RS-232/485) and can also be expanded to a U-Range system together with a Fidas® fine dust measurement system.
Benefits
Your special advantages
Particle size distributions from 8 nm to 1.2 µm

Continuous and fast-scanning principle of measurement

High resolution in up to 128 size classes/decade

Suitable for concentrations of up to108 particles/cm3

Universally connects to DMAs and nanoparticle counters from other manufacturers

Graphic display of measurement values

Intuitive operation using 7" touchscreen and GUI

Integrated data logger

Supports multiple interfaces and remote access

Low maintenance

Reliable function

Reduces your operating expenses
* Please contact Palas® for further details.
Applications
Individual solutions for various industries
Filter test
Aerosol research
Environmental and climatic studies
Inhalation experiments
Interior and workplace measurements
Technical features
In detail
Measurement range (number C_N)




0 – 108 particles/cm3


Size channels

Max. 256 (128/decade)

Measurement range (size)

8 – 1,200 nm

Volume flow

0.5 – 3 l/min

User interface

Touchscreen, 800 • 480 pixel, 7" (17.78 cm)

Data logger storage

4 GB

Software

PDAnalyze

Adjustment range (voltage)

1 – 10,000 V(UP and DOWN scan possible)

Volume flow (sheath air)

2.5 – 14 l/min

Installation conditions

+10 – +30 °C (others on demand)

Interfaces

USB, Ethernet (LAN), AUX, RS-232 (CPC only)

Data Management

Prepared for connection to the Palas®Cloud MyAtmosphere ("MyAtmosphere-ready"); internet access and separate registration required.MyAtmosphere terms and conditions of use apply.
Downloads
More information about U-SMPS 2050/2100/2200
---
---
---
Shopping cart
Your individual configuration
Options
Options suitable for this device