AQ Guard Smart 2000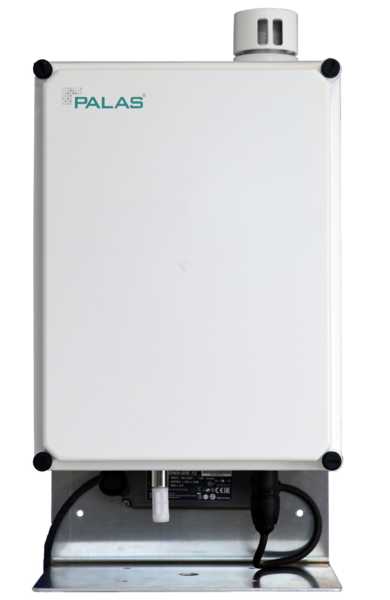 Air quality analyzer for monitoring nanoparticles (UFP number concentration, LDSA-"Lung-deposited surface area") for demanding environmental conditions
AQ Guard Smart 2000 is a measuring device for monitoring particle concentrations in the ultrafine range. These ultrafine particles (UFP) significantly impact health, according to the World Health Organization (WHO). The who has therefore been recommending their monitoring since 2021. They typically cannot be detected by optical aerosol photometers or spectrometers due to their small size
Mass limit values such as PM2.5 and PM10 can be measured well with gravimetric methods; at the latest, for smaller PM1, ultrafine fractions are difficult to estimate and can be meaningfully assessed only by determining the particle concentration.
Expensive and more maintenance-intensive condensation particle counters are usually used to measure ultrafine particles. A size-classifying system (Scanning Mobility Particle Sizer) can make statements about particle size distribution and concentration.
Operation principle
Air quality analyzer for monitoring nanoparticles
AQ Guard Smart 2000 for ultrafine particles closes the gap between classical condensation particle counters and optical systems. Long-term measurements for the evaluation of number concentrations indoors and outdoors, e.g., at highly polluted locations such as airports, main roads, forwarding agencies, or also, e.g., toll stations, are quickly and reliably possible. They can already be used to define avoidance and reduction measures in a meaningful and targeted way.
Sensors that measure temperature, humidity, and pressure are integrated as standard.
AQ Guard Smart System has a pole or tripod mount and can be extended with a sunshade and LoRa modem if required.
Fig. 1: AQ Guard Smart on a tripod
---
Extensions/Accessories
MyAtmosphere
AQ Guard Smart 2000 can be connected to the cloud platform MyAtmosphere. Private and government operators can retrieve current readings directly without delay. Furthermore, the data can be compared with the measured values of other devices. MyAtmopshere can be integrated into its systems/environments via an optional programming interface (API).
Sunshade
Optionally, the AQ Guard Smart 2000 can be equipped with a sunshade made of white powdered aluminum to reduce direct sunlight and overheating of the device. We recommend this in areas with high continuous sunlight and simultaneously high ambient temperatures. The sunshield can also be used as protection for the device itself, e.g., on construction sites or other areas (wind/snowfall/rain).
Weather station

To better understand the fine dust input and its cause, the device is optionally available with a corresponding weather station, which provides supplementary meteorological information.
Touch panel
The touch panel allows direct display as well as configuration of the system via a USB port provided below or inside.
Signal lamp
A switchable signal light (green/yellow/red), connected via the system's WiFi hotspot, visualizes limit value overruns.
Benefits
Your special advantages
Simple and accurate monitoring of particle number concentration of UFP

Affordable and low maintenance, no working fluid

Flexible use indoors and outdoors

High temporal resolution

Versatile data transmission options
Applications
Individual solutions for various industries
UFP concentrations in and around airports and seaports
Formation and dispersion studies
Immission monitoring of industrial plants
Urban air quality monitoring
Supplementary measurement of UFP concentrations at traffic-rich sites
Technical features
In detail
Measurement range (number C_N)

1,000 – 10,000,000 particle/cm3



Measurement range (size)

Ab 0,010 μm

Measuring principle

Diffusion charging

Reported data

CN,average diameter X50,LDSA (Lung Deposited Surface Area),ambient pressure, ambient temperature, rel. ambient humidity

Weight

Approx. 6 kg

Installation conditions

0 – +40 °C

Interfaces

USB, Ethernet (LAN), Wi-Fi, 3G/4G via Modem, optional: LoRaWAN

Protocols

UDP, ASCII, Modbus

Special features

Heated inlet, mast / tripod mount

Dimensions

530 • 270 • 208 mm (H • W • D)

Data Management

Prepared for connection to the Palas®Cloud MyAtmosphere ("MyAtmosphere-ready"); internet access and separate registration required.MyAtmosphere terms and conditions of use apply.
Downloads
More information about AQ Guard Smart 2000
---
---
---
---
---
---
---
---
---
---
Shopping cart
Your individual configuration
Options
Options suitable for this device
Related products
Discover similar products
Sustainable
MCERTS Sira MC 160290/03
TÜV Rheinland
MyAtmosphere