AGF 3000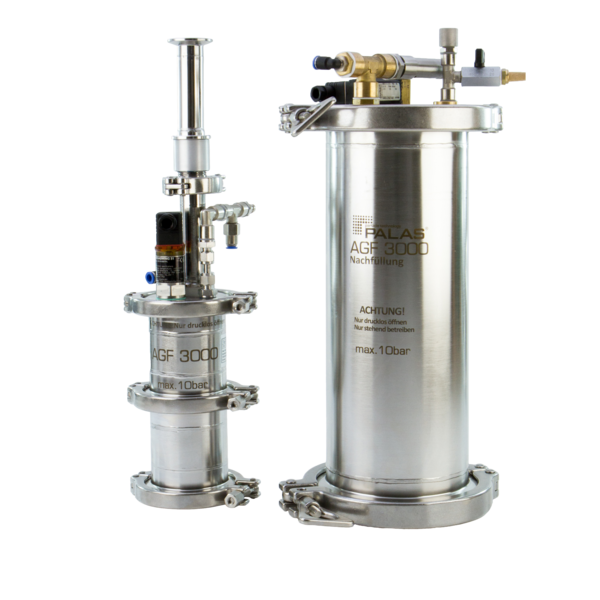 Aerosol generator with refill unit for loading compressed air filters under positive pressure up to 7 barg
The AGF 3000 was specially developed to supply compressed air filters per ISO 12500 until the compressed air filter is saturated. The AGF 3000 system comprises an aerosol generator and an automatic refill unit.
The AGF 3000 is equipped with a binary nozzle developed by Palas®, which can also achieve high mass flows of up to 29 g/h. The AGF 3000 aerosol generator is designed to be pressure-resistant with 10 bar inlet pressure and 7 bar outlet pressure.
Norms and certificates
National and international standards
ISO 12500
Operation principle
Aerosol generator with refill unit for loading compressed air filters under positive pressure up to 7 barg
The liquid to be dispersed is simply filled in the reservoir. The mass flow is adjusted using the volume flow through the nozzle. The volume flow via the special binary nozzle is continuously controlled using a mass flow controller.
The filling level in the reservoir is monitored by a sensor. If the minimum filling level is not reached, then the separate refill unit automatically fills the reservoir on the aerosol generator to the maximum filling level.
Benefits
Your special advantages
Pressure-resistant 10 bar inlet pressure and 7 bar outlet pressure

For continuous loading with refill unit

High mass flow of up to 29 g/h

Minimization of compressed air filter loading time

Very exact volume flow control with use of mass flow controller
Applications
Individual solutions for various industries
ISO 12500
Testing compressed air filters
Loading compressed air filters
Technical features
In detail
Volume flow

10 – 70 Nl/min

Weight

AGF: approx. 4 kg, refill unit: approx. 10 kg

Mass flow (particles)

4 – 29 g/h

Aerosol outlet connection

Øinside = 26 mm, Øoutside = 29 mm

Mean particle diameter (number)

0.4 µm (DEHS)

Special features

Pressure-resistant up to 10 bar (overpressure), automatical refill unit

Filling quantity

Approx. 7,000 l

Dimensions

180 • 240 mm (Ø • H, AGF 3000)
240 • 440 mm (Ø • H, refill unit)
Shopping cart
Your individual configuration
Options
Options suitable for this device