Fidas® 200 S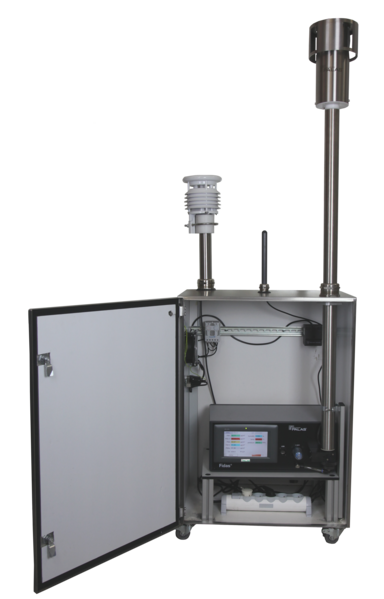 EN 16450 approved fine dust aerosol spectrometer for simultaneous measurement of PM2.5 and PM10 in weatherproof cabinet for outdoor installation
The Fidas® 200 S version is a 19" plug-in unit mounted in a splash-proof stainless steel control cabinet for outdoor use (temperature range -20 - 50 °C). A larger, air-conditioned control cabinet is available on request, allowing the installation of additional devices. Variants of the Fidas® 200 S are the basic Fidas® 200 and the Fidas® 200 E with a remote sensor (for easier integration into stations with existing roof feed-through).
Norms and certificates
National and international standards
VDI 4202-1 VDI 4203-3 EN 12341 EN 14907 EN 16450 EU-Äquivalenzleitfaden EN 15267-1/-2 TÜV Rheinland MCERTS
Operation principle
You can find more about the operating principle in the model description
Fidas® 200
.
Benefits
Your special advantages
Type-approved and certified according to latest EN requirements (EN 15267)

Explicitly approved for outdoor installation, highly flexible application ranges

Continuous and simultaneous real-time measurement of multiple PM values

Additional information on the basis of particle number concentration

Adjustable time resolution from > 1 s to 24 h

Light source: LED with high stability and long lifetime

Long service life

Low maintenance

External check of calibration on site possible

Intuitive and easy to operate

Reliable function, very high data availability (> 99 %)

2 pumps in parallel operation for additional operational safety due to redundancy

Permanent monitoring of status, among others online monitoring of calibration

Remote monitoring, maintenance and control easily possible

Cloud zone via Palas server for worldwide data retrieval

No radioactive material

No consumables

Low energy consumption

Reduces your operating expenses
Applications
Individual solutions for various industries
Regulatory pollution control in monitoring networks
Ambient air monitoring campaigns
Preliminary assessments (spot checks)
Long-term studies
Emission source attribution
Emission dispersion studies (e.g. fires, volcanoes)
Regulatory pollution control in monitoring networks
Ambient air monitoring campaigns
Long-term studies
Emission source attribution
Emission dispersion studies (e.g. fires, volcanoes)
Technical features
In detail
Measurement range (number C_N)

0 – 20,000 particles/cm3

Size channels

64 (32/decade)

Measurement range (size)

0.18 – 18 µm (certified range, other measuring ranges on request)

Measuring principle

Optical light scattering at single particles

Reported data

PM1, PM2.5, PM4, PM10, TSP, CN, particle size distribution, ambient pressure, ambient temperature, rel. ambient humidity

Measurement range (mass)

0 – 10,000 µg/m3

Measurement uncertainty

9.7 % for PM2.5, 7.5 % for PM10 (expanded measurement uncertainty according to EN 16450, TÜV Report)

Volume flow

4.8 l/min ≙ 0.3 m3/h ± 3% (24h), complient with EN 16450

Time resolution

1 s – 24 h

Data acquisition

Digital, 20 MHz processor, 256 raw data channels

Light source

Long term stable LED

User interface

Touchscreen, 800 • 480 pixel, 7" (17.78 cm)

Housing

Weatherproof outdoor housing (IP 65)

Weight

Control unit: 9.3 kg, sample head: 2.25 kg, sample tube: 4.5 kg

Operating system

Windows 10 IoT Enterprise

Data logger storage

Capacity for 2 years continuous operation at 60 s storage interval

Software

PDAnalyze

Response time

< 2 s

Installation conditions

-20 – +50 °C (weatherproof)

Interfaces

USB, Ethernet (LAN), RS-232, Wi-Fi

Protocols

UIDEP, UDP, ASCII, MODBUS, Bayern-Hessen

Power supply

115 – 230 V, 50/60 Hz

Sampling head

Passive collector Sigma-2

Dimensions

1,810 • 600 • 400 mm (H • W • D)

Sampling system

Drying of the aerosol by IADS (Intelligent Aerosol Drying System)

Noise emission

< 70 dB(A)

Fuse

T2A

Resolution

0.1 µg/m3

Power consumption

Normal operation: 60 W, max. < 300 W

Data Management

Prepared for connection to the Palas®Cloud MyAtmosphere ("MyAtmosphere-ready"); internet access and separate registration required.MyAtmosphere terms and conditions of use apply.
Downloads
More information about Fidas® 200 S
---
---
---
---
---
---
---
Shopping cart
Your individual configuration
Options
Options suitable for this device
Related products
Discover similar products
Sustainable
MCERTS Sira MC 160290/03
TÜV Rheinland
MyAtmosphere