GVT 3000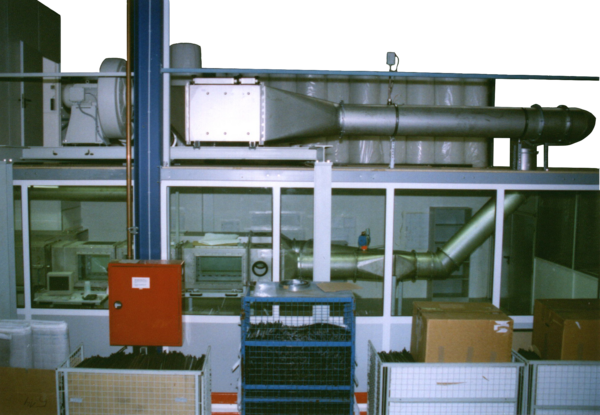 Upgrade of existing filter test channels for room air filters with aerosol technological components in accordance with EN779, ASHRAE 52.2, and ISO 16890 incl. automation
For over three decades, Palas® has built filter test systems for filters and filter media or has upgraded existing test rigs with components such as aerosol generators (droplets, salts, and solids), aerosol spectrometers, dilution systems, discharger systems, and automation software.
In the field of room air filtration, more than 14 existing test rigs have already been upgraded and automated using Palas® technology to satisfy our international customers.
Upgrading and automation of particle measurement, as offered by Palas® with the GVT 3000 (General Ventilation Test System Upgrade), serves in quality assurance and the development of filters in EN 779, ASHRAE 52.2, and ISO 16980 test rigs. The upgrade consists of an aerosol spectrometer, incl. a laptop/PC and monitor, aerosol generators (optionally: discharge unit), a sampling system, as well as automation of the measurement process.
The Palas® aerosol generators offer unrivaled consistency in particle concentration and size. This forms the basis for the excellent repeatability of test results using the Palas® filter testing systems and test rig upgrades.
Norms and certificates
National and international standards
EN779:2012 ASHRAE 52.2 ISO 16890
Operation principle
Upgrade of existing filter test channels
Thanks to the high-resolution light scattering spectrometer Promo® 3000, the fraction separation efficiencies can be determined with greater ease, speed, reliability, and accuracy. With the aid of patented optical fiber technology, there are practically no particle losses in the sampling lines, as the sensors can be positioned directly at the measurement point.
With the Fidas®system, Palas®offers the only optical aerosol spectrometer certified in accordance with EN 12341:1998 and EN 14907:2005 for PM2.5 and PM10 measurements. The Palas® aerosol spectrometer Promo® is almost the same in design as the certified Fidas® system and provides reliable ePM values for filter testing. FTControl from Palas® is simple, reliable, and fast filter testing software that has been proven internationally. It enables the test procedure to be executed fully automatically in accordance with EN 779, ASHRAE 52.2, and ISO 16890, including the generation of standard-compliant test reports.
The GVT 3000 test rig upgrade is modular and can be adapted to the relevant standards.
• Filter testing in accordance with EN 779:2012
• Filter testing in accordance with ASHRAE 52.2
• Filter testing in accordance with ISO 16890
---
Extensions/Accessories
Individual components of the GVT 3000 test rig upgrade:
1. Variable aerosol generation: Depending on the standard for testing, Palas® offers aerosol generators for the dispersion of different dusts (e.g., A 1 - A4, ASHRAE, Aramco, etc.), salts (e.g., KCl/NaCl), oils (e.g., DEHS) and suspensions. All generators are clearly characterized according to the new VDI 3491 and offer the highest dosing consistency in particle size distribution and concentration. Shortening of the measurement time, e.g., through increased dust concentration.
2. Discharge: (ISO 16890): ISO 16890 calls for aerosol discharge using KCl as the test aerosol. Palas® offers an electrical system, CD 2000, for this purpose, Special advantage: The discharge is easy to switch on and off and is almost maintenance-free.
3. Light-scattering spectrometer: The aerosol spectrometers Promo® System is based on the same technology as the Fidas® system certified for PM values. The aerosol spectrometers are characterized by high-resolution measurement of particle size and particle concentration in up to 60 size classes in one measurement range, e.g., 0.2 - 10 µm (four measurement ranges between 0.2 - 100 µm), and deliver ePM values reliably for ePM1, ePM2.5, and ePM10.
4. Sampling: Representative sampling connected to the existing test channel, incl. isokinetic probes for raw gas and clean gas measurement points.
5. Automation: Automation of the test rig for the acquisition of sensor data, such as differential pressure and volume flow, as well as controlling the relevant test rig components, aerosol generators, light-scattering spectrometers, dischargers, and ventilators is achieved with the worldwide proven FTControl software in combination with separate plug-and-play test rig control electronics incl. I/O module. Palas® delivers the measurement transducers for humidity, temperature, barometric pressure, and differential pressure at the filter under test and volume flow set point selection. Components already on the test rig can be integrated into the automation process.
The individual Palas® components (aerosol generators, dilution systems, and aerosol spectrometers) are coordinated, thus delivering fast, reproducible, and cost-effective measurement results. During pre-delivery acceptance testing and final inspection of the system, Palas® carries out the necessary tests to provide unmistakable proof of the function of the individual components.
Benefits
Your special advantages
Easy use of different test aerosols, e.g. SAE Fine and Coarse, NaCl/KCl, DEHS

Highest dosing consistency in aerosol generation with the tried-and-tested Palas® aerosol generators

High resolution measurement technology using welas® digital / Promo® with up to 120 size classes per measurement range, e.g. 0.2 - 10 µm

Large particle size range of 0.2 - 100 µm in four measurement ranges

Determination of PM1, PM2.5 and PM10 values

Classification accuracy and size resolution exceeding the high demands from ASHRAE 52.2.

Minimisation of sampling losses through the use of patented optical fibre technology

Flexible filter test rig software FTControl

Sequence programs for EN779:2012, ASHRAE 52.2 and ISO 16890

Easy to operate - even untrained personnel can be quickly trained in the use of the equipment

Short set-up times

Cleaning and calibration can be performed autonomously by the customer

Highest measurement reproducibility of the test system

Easy use of the measurement technology components – even in other applications

Reliable, fast, reproducible and therefore cost-effective measurement results

Complete system from Palas®, including the individual components

Clear verification of the function of the individual components and the system as a whole within the scope of pre-delivery acceptance testing and on delivery

Low maintenance

Reduces your operating expenses
Applications
Individual solutions for various industries
Testing of room air filters in accordance with EN779:2012
Testing of room air filters in accordance with ASHRAE 52.2
Testing of room air filters in accordance with ISO 16890
Technical features
In detail
Shopping cart
Your individual configuration
Options
Options suitable for this device